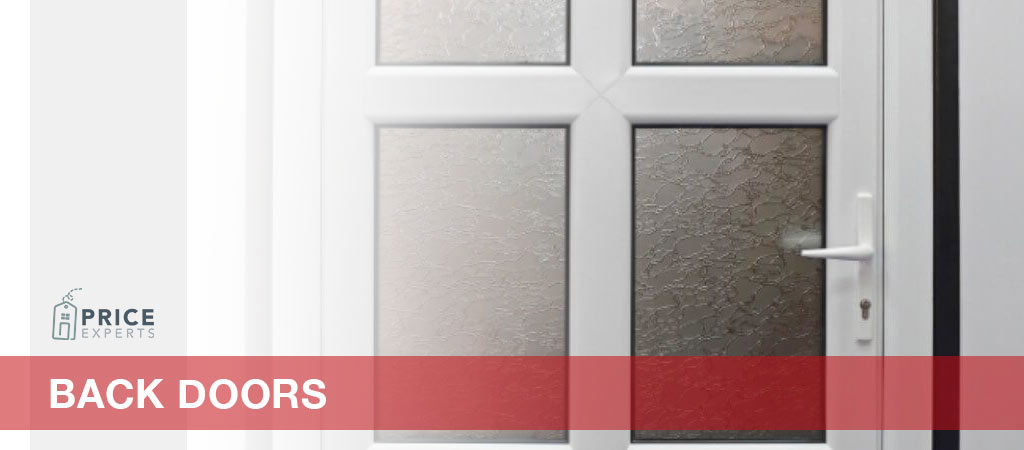 from
£600
up to
£1050
---
New back door prices are on average £700 including VAT and installation
Many homeowners choose to have a back door installed to make it easier for them to access their outdoor space. Some people call it their second entrance to their home. Others use a back door as the main point of entry. While a back door might be out of sight and concealed by your property, it still needs to be just as secure as your front door.
There are a variety of designs, colours and panels available to ensure you end up with a  door that reflects your taste and the style of your property. From uPVC (unplasticized polyvinyl chloride) and aluminium to solid oak and soft wood, there are plenty of  styles to choose between. Back doors can also come with glazing and high-security features, which means you'll never have to settle for a basic door.
Back door prices range between £600 to £1050. As some back doors will be more suitable for your home than others, it's important to choose wisely and not be swayed by the price.
Types of Back Doors
aDVAnTAGES
DISADVAnTAGES
Whether you want an energy-efficient opening or a top-level security door, you should be able to find the perfect back door from the five main types available. To help you decide on the best door type for your home, we're going to explore all your options.
As a back door with a standard roller lock will be made from uPVC, you'll have no trouble getting the right finish for your property. They can be half glazed or fully glazed and should cost no more than £700. The standard roller lock system isn't as secure as a high security locking system but it's a popular choice among homeowner nonetheless.
If you have the type of home where it's easy to gain access to the back of the house from the outside, then a fully glazed or half glazed high security door could be right for you. Not only will it come with a multi-point locking system but it's also one of the strongest and securest types of back door available on the market. The glazed panels are great for allowing lots of natural light into the back of your property and the uPVC material helps to keep the door strong and secure. A high security back door will cost you £700.
With a half glazed door, you have the choice of an aluminium, solid oak or soft wood finish. Aluminium is stylish, secure, virtually maintenance free and available in an extensive range of colours. Solid oak is also highly secure and will offer you a more traditional finish. Both solid oak and soft wood have good insulation properties and come in a variety of finishes. The half glazed panels will allow light to flow into your home and the back door itself will cost between £600 and £1000.
If you like the sound of a  door with an arched toplight, you can expect to pay anything from £650 to £975. As the name suggests, the glazed panel sits at the top of the door and is arched to allow enough natural light to brighten up the back area of your property. Like with the half glazed versions, arched toplight back doors can be made from aluminium, solid oak or soft wood.
A solid fire  door must be made to protect you from smoke and fire, as well as meet or surpass British fire resistance standards. This type of door is usually constructed from aluminium, solid oak or soft wood, all of which have their own unique benefits. Solid fire back doors are also capable of shielding your home from noise and draughts and will cost you around £675 to £1050.
A back door is essential for giving you easy access to your garden or alfresco area. They also help to keep the back of your property safe and secure, as well as protected from dust, rain and wind.
All uPVC doors are available in various designs, colours and woodgrain effects. These doors maintain their shape, offergreat value for money and are a lot cheaper than some other versions. Furthermore, uPVC doors require very little or no maintenance and they're a secure option for your home.
Aluminium doors come in an extensive range of colours and are very stylish and modern. They are energy efficient and can help to keep heat in your home, saving you money on energy bills. You won't have to worry about rot or discolouration as they keep their good looks through virtually no maintenance. Aluminium doors are also highly secure and help to reduce the risk of burglary.
Solid oak is strong and a natural insulator offering maximum comfort for your household. The natural beauty you'll get with a solid oak door will enhance the appearance of your home and give it more value. You can choose between traditional finishes and a wide range of colours to suit the style of your property. They're also great for blocking out noise and scaring off potential intruders.
Like solid wood doors, soft wood doors are great insulators and will add a touch of natural beauty to your traditional or modern home. They actually cost a lot less than solid wood doors and will offer a similar level of performance.
There aren't any disadvantages to installing a back door but there are some things you should be aware of when it comes to the type of door material you choose.
Despite the wide variety of designs and colours available, uPVC doors will not match the visual appeal of wooden doors. While they offer a certain level of security, they are considered more lightweight then doors constructed from other materials.
Aluminium doors don't really suit traditional homes, but it will ultimately come down to your personal taste. The main disadvantage of aluminium doors is the cost because they're more expensive than uPVC doors and soft wood doors.
Solid oak doors will need resealing, touch ups and regular maintenance to help keep them looking their best year after year. They're also on the pricey side and will cost you more than uPVC or soft wood alternatives.
Soft wood doors are renowned for absorbing moisture, which makes them less stable in the long run. They can shrink and swell as the weather changes throughout the year and will need a lot of maintenance to protect them from rot.
Back Door Features and Benefits
| Key Features | benefits |
| --- | --- |
| Affordability | Mid range |
| Materials | UPVC/Aluminium/solid oak/Soft wood |
| Styles | Arched top light/half glazed/ solid |
| Size Limitations | To fit frame |
| Optional Extras | Lock Upgrade |
| Durable | Superior strength |
| Carbon Footprint | Ever Lasting |
---
---
Back Door Prices
If you know your doors measurements and want a typical price on a new door and fitting costs, check out our price guide below.
| Size | Type | Material | Door Type | Typical Price | Fit Price | Total price |
| --- | --- | --- | --- | --- | --- | --- |
| 900 x 2100 | Back Doors | uPVC | Standard Roller Lock Fully Glazed | £400 | £200 | £600 |
| 900 x 2100 | Back Doors | uPVC | High Security Fully Glazed | £475 | £225 | £700 |
| 900 x 2100 | Back Doors | uPVC | Standard Roller Lock Half Glazed | £400 | £200 | £600 |
| 900 x 2100 | Back Doors | uPVC | High Security Half Glazed | £475 | £225 | £700 |
| 900 x 2100 | Back Doors | Alumiunum | Half Glazed | £700 | £200 | £900 |
| 900 x 2100 | Back Doors | Alumiunum | Arched Toplight | £725 | £225 | £950 |
| 900 x 2100 | Back Doors | Alumiunum | Solid Fire Door | £800 | £250 | £1,050 |
| 900 x 2100 | Back Doors | Solid Oak | Half Glazed | £750 | £250 | £1,000 |
| 900 x 2100 | Back Doors | Solid Oak | Arched Toplight | £725 | £250 | £975 |
| 900 x 2100 | Back Doors | Solid Oak | Solid Fire Door | £800 | £250 | £1,050 |
| 900 x 2100 | Back Doors | Soft Wood | Half Glazed | £375 | £250 | £625 |
| 900 x 2100 | Back Doors | Soft Wood | Arched Toplight | £400 | £250 | £650 |
| 900 x 2100 | Back Doors | Soft Wood | Solid Fire Door | £425 | £250 | £675 |
---
---
What we think of Back Doors
Installing a back door is always a great idea because it offers you convenient access to your garden or outdoor living area. Opting for a back door with glazed panels is also a smart choiceas it will let lots of natural light flow into your home.You just need to weigh up the pros and cons for each type of back door to make the selection process a little easier.
While the final decision will come down to the style of your property, your taste and how much you want to spend, you must always pick a back door that provides you with adequate security. When you speak with dealers, don't be afraid to ask for more information about each of the door types to ensure you make the right choice the first time around.
Compare Quotes and Save Money
Compare quotes from reputable door installers today. By comparing quotes and back door prices you'll never run the risk of missing out on the best deal for you and your home. All our door installers are FENSA certified giving you the confidence that your door will be delivered on time and within your budget.
Latest advice
June 2019,
by Igor
in Windows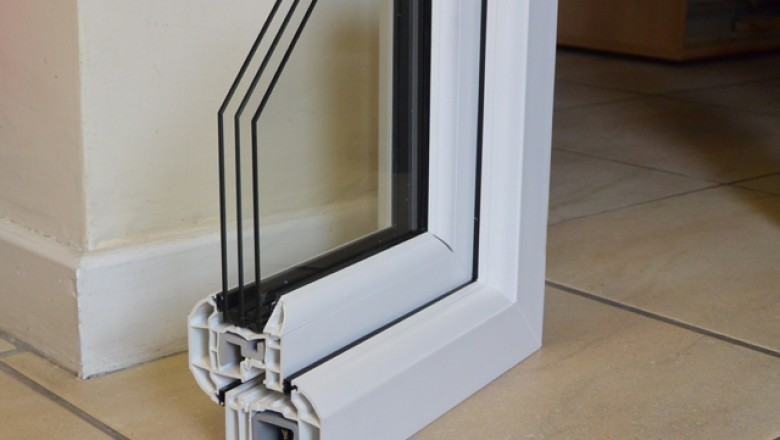 With the fight to tackle climate change, manufacturers around the globe are looking for solutions that help to improve the energy efficiency of homes...